Influence and metaverse: a promising duo
According to forecasts, the influencer marketing sector is expected to reach nearly 13 billion euros in 2022.
The essence of this strategy is to meet consumers where they gather en masse. Luckily, the metaverse is identified as the big trend that will change the experience of Internet users.
By 2024, the metaverse market will exceed 700 billion euros. The design of these virtual worlds promotes the concentration of a target audience in a single space: good news for brands and influencer marketing!
The metaverse offers the possibility for any user to start their influencer journey. Established brand ambassadors can also build a virtual persona to get even closer to their audience. Marketers will have access to more accurate data, enabling them to deliver an unparalleled experience to their customers.
How is metaverse changing influencer marketing?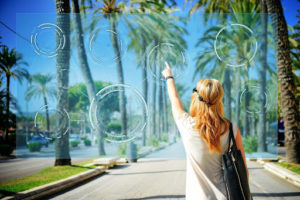 Before going any further, a study by IZEA Worldwide, provider of influencer marketing technologies, data and services reveals that:
70% of influencers think the metaverse will replace social media
56% of social media influencers work in the metaverse

60% of them want to be creators in virtual worlds

72% say they are considering or already making money in the metaverse

49% would like to be paid in bitcoins if they made money in the metaverse

85% have played virtual world games like Minecraft and Fortnite

90% of influencers support brand sponsorship in virtual world games
Influencer marketing is considered one of the most effective strategies. However, it has challenges that influencers and brands face including:
Payment problems

Fraudulent social media activity, such as buying likes or followers

The lack of data-driven solutions
Similarly, interactions between influencers and their audience are often limited by the features of each platform. The metaverse provides the solution to these limitations. Features like creating multiple digital avatars will allow influencers to be in multiple virtual locations at the same time.
Brands and their ambassadors can organize simultaneous events or product launches. This will enable them to attract more long-term customers.
Data collected on a target is more relevant with the metaverse. Companies will be able to create effective, ultra-personalized and compelling strategies. Influencer campaigns are better measurable with reliable data.
The next influencers will be creators familiar with terms like Procreate, Roblox, or Sandbox. They must master Augmented Reality and Virtual Reality technologies.
Agencies to manage influencer marketing in the metaverse
To respond to the trend of influencers in the metaverse, agencies are already developing strategies.
This is the case of Post For Rent which has built a headquarters of digital influencers in the metaverse. It should serve as a bridge for brand ambassadors between the physical and virtual world.
Another agency, called Metafluence, uses blockchain technology to build a metaverse in which influencers, brands and the public can interact. All parties will be able to chat in real time, and participate or attend certain events.
The ecosystem will be composed of several features such as:
Hotbeds of influencers

An NFT gallery

A Meta Shop

A Crypto Room

A guest space

Metaclans
Metafluence also has its own currency $METO, which will be used for transactions and community incentives.
Influence and metaverse, how to take advantage of it?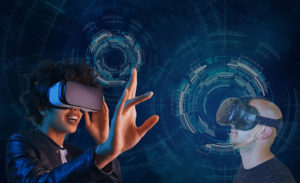 The metaverse offers creators a new way to interact and communicate with their fans and fellow influencers. Brands must create their digital ambassadors and follow, or dictate, new trends in this virtual ecosystem.
Some of them have already started. This is the case of the Prada clothing brand, with its virtual muse, Candy! Influencers must also create their avatars and work with brands in the metaverse.
The example of Dior, which created a digital double of its real ambassador, reveals this new trend. Angelababy attended the Pre-Fall 2021 show virtually in Shanghai. Her surprise appearance on the brand's Weibo account generated more than 90,000 reactions within two hours of posting.
A virtual version of model Kendall Jenner starred in Burberry's monogram summer 2020 TB collection. Another digital representation of model Naomi Campbell appeared in the British brand's campaign in July 2021.
Creating avatars will allow influencers to regularly organize virtual meetings, real-time gaming sessions and interact directly with their fans. Food influencers will be able to cook together with their followers.
In the travel industry, influencers can share realistic and engaging experiences. Sports influencers can perform their workouts in front of a crowd of followers. The metaverse will allow you to create more personal engagements with your community.
Companies can also offer immersive virtual tours of their stores. Customers will be able to make purchases in real time and engage with influencers associated with the brand about the choices to be made. The perfect strategy to increase your sales!
In which strategies to use influencer marketing in the metaverse?
Before investing in metaverse-style influencer marketing, determine your goals. Are you trying to create a metaverse-specific experience or create content to fuel your strategy on other marketing channels?
Influencers can be used successfully in both cases within the metaverse. They can participate in a virtual experience co-creation strategy that will be promoted on social networks. The idea is to organize a campaign in the metaverse that will be broadcast on the brand's traditional platforms. In the fashion industry, your brand ambassador can have their avatar wear a virtual garment to promote your new collection in the real world.
What about virtual influencers?
Before the arrival of the metaverse, influencer marketing was already experiencing a "revolution" of virtual influencers. Digital characters powered by Artificial Intelligence that animate communities on social networks. They are considered cheaper and more controllable by marketers.
According to virtualhumans.org, there are already 150 virtual influencers collaborating with brands and engaging with customers daily. Among the most famous are:
Lil Miquela: more than 3 million subscribers on Instagram, 3.5 million on TikTok

Lu do Magalu: who has nearly 6 million subscribers on Instagram, 6.2 on TikTok

Guggimon: nearly 1.5 million Instagram followers
These virtual influencers have participated in marketing campaigns of brands like Prada, Balmain, Calvin Klein, Dior, etc.
In the future, influencer marketing in the metaverse will see such AI influencers or meta-influencers co-exist with their "human" counterparts. Which will allow customers to engage with more personalized and relevant brand stories.
With the metaverse, influence marketing will leave the simple framework of the smartphone. Consumers can live with their favorite creators an experience close to reality and more engaging than that currently offered. Sponsored campaigns will become more effective with data allowing brands and their ambassadors to better know their target.