Carrefour acquires land in the Sandbox metaverse
If you feel like you're hearing more and more about the metaverse, you're not alone. It's either a buzzword or the future of the web, depending on how you look at it.
Over the past few months, tech players from Facebook's parent company Meta to Microsoft have all been talking about this virtual world and its potential for their businesses, from commerce to entertainment.
Carrefour will join Facebook, Walmart, Nike, and Disney and a host of other companies that plan to claim their own corner of the metaverse.
The French distribution giant announced at the end of January that it is acquiring a 36-hectare plot in the video game The Sandbox. Elodie Perthuisot, e-commerce and digital transformation manager for the Carrefour group, announced on Twitter that the group has indeed purchased its first plot of land in The Sandbox, located at 33.147.
"A ground to be at the heart of the subject of the metaverse, to experiment, to understand its evolutions and the consumption that will happen. Concrete projects to discover soon", she specifies.
This purchase, according to the director, is part of Carrefour's digital transition. It's about experimenting and planning changes in the distributor's retail business.
Why did Carrefour buy virtual land in the metaverse?
Over the next few years, more and more meetings, events and other activities will take place virtually, as millions of people in video games do today. We will create our own avatars and participate in events in this virtual world.
Given how quickly major brands have claimed their rights to the metaverse, it would make sense for Carrefour to embark on this brilliant new marketing direction — especially after Facebook's rebranding to Meta in late 2021.
"Our strategy is to stay at the heart of emerging trends and understand them without having to react after the fact," said Carrefour's e-commerce and digital transformation manager.
Certain locations in the metaverse will be highly prized properties. Digital products, from furniture to artwork, will be bought and sold. The distribution giant already knows this and wants to find a place in this new world!
The metaverse is very real and merchants like Carrefour should be aware of it. "Here, we will look precisely at what is happening in the metaverse to be in the foreground", specifies Elodie Perthuisot of the Carrefour group. The company wants to experiment in The Sandbox which is a metaverse prototype. She plans to join other metaverse platforms later.
Carrefour also says it is interested in NFTs, virtual goods whose address has been registered on the blockchain. "This is not a subject reserved for luxury. NFTs could reinvent the relationship between brands and distributors. We are exploring this theme," adds Élodie Perthuisot.
Big brands and the metaverse
There was a time when Web 3.0 was a niche and modern product. Today, large companies are seizing this trend, marking the beginning of the consumer era for these new technologies.
Carrefour is not the first retailer to take an interest in the metaverse. Several major brands have already ventured there. Nike, for example, filed several trademark applications late last year. It has also partnered with Roblox to develop a digital world called "Nikeland". The brand has also acquired digital sneaker company RTFkt. On the other hand, Adidas has partnered with Coinbase to purchase virtual land in The Sandbox.
Carrefour is one of the largest European retailers, reaching a large number of buyers. Rivals may follow suit by raising their stakes to maintain a pioneering edge in a market that some see as the next evolution of the internet.
Carrefour's entry into the metaverse: A situation comparable to Walmart?
Elodie Perthuisot remains skeptical as to the reason for this purchase, but directs us to two possible avenues. The group could build a The Sandbox store, making it possible to buy their products virtually (but to receive them physically later) and develop the NFT. It could also be a way for them to create smarter digital events.
Internet users can compare this news to moves from the largest retailer in the world, Walmart, which plans to sell virtual goods and services. It looks like Walmart is getting ready to venture into the virtual world.
The brand has filed patent applications indicating that it plans to create its own set of cryptocurrencies and non-fungible tokens (NFTs).
The multinational retailer submitted several new trademarks to the United States Patent and Trademark Office on December 30. They went unnoticed until a report by CNBC shed more light on Walmart's ambitions.
Will Carrefour crush retail competition in the metaverse?
Many businesses travel to the metaverse to claim their real estate and related structures there, and retailers are bound to travel there as well.
Anyone who has ever walked into a Carrefour supermarket knows that this brand is associated with ease of purchase and value for money. If you need a cheap side table, go to Carrefour. If you need a candle box for a winter storm, Carrefour. Of course, in the real world, Carrefour also offers groceries, medicine, etc., but that doesn't exactly apply to the metaverse.
As with any other emerging market, people and marketing experts have always noticed that it is the people who develop the sales channel who get a sales monopoly. This is also what Carrefour's e-commerce managers have understood. If a company decides to sell products in the metaverse, it can significantly outsell the competition in terms of sales.
A future shopping in the metaverse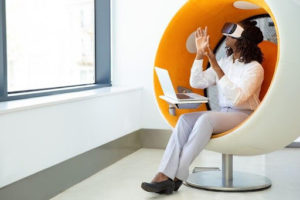 Carrefour's advertising is somewhat ambiguous. It has sparked a lot of speculation about what the company's existence will look like in the metaverse. Just do a web search with the phrase "crossroads metaverse" to find countless articles about the services the retailer could potentially offer.
Retailers have been interested in the idea of ​​virtual reality shopping for many years. Given that the work has already been done, it seems likely that shopping in the metaverse will one day be possible. But what could that look like?
If virtual reality shopping is ever to become mainstream, it will need to accomplish a number of things:
Comfortable and Reliable Experience: No one will make a habit of shopping in the metaverse if the UI is buggy or the graphics cause a lot of people to feel annoyed.
Convincing alternative to online shopping: Online shopping nowadays does not require much effort. When you go to Amazon, you are automatically logged in, you can add an item to your cart with one click. Since Amazon has your credit card number, you can then complete the purchase in seconds. The whole process is quick and efficient.
If metaverse shopping is to become a reality, it will need to be as efficient as the current generation of online shopping.